Effective Keyword Research That Worx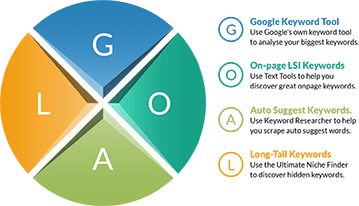 We've been performing keyword research for years & we can help your business

Using the right keyword tools

There are hundreds of keyword tools available to perform keyword research and we use a carefully selected group of the best tools available on the market today.

Finding the best longtail keywords

Our favourite tool for finding the best long tail keywords for your business is 'The Ultimate Niche Finder'. This tool allows us to drill deep & find all of the hidden gems.
Leveraging auto suggest keywords

Another great research tool we use is 'Keyword Researcher'. This tool allows us to scrape the auto-suggest keywords that appear in the Google search bar when you start typing.

Seeding LSI keywords correctly

Part of proper keyword research is to ensure you have the right density of LSI keywords seeded throughout your page's copy. There is no better tool than 'text Tools' for this.
Improper keyword research is a disaster waiting to happen. There's nothing worse than allowing your page to age in the search results only to realise you've forgotten to include certain keywords, or you didn't choose keywords that convert very well.Get in Touch ?