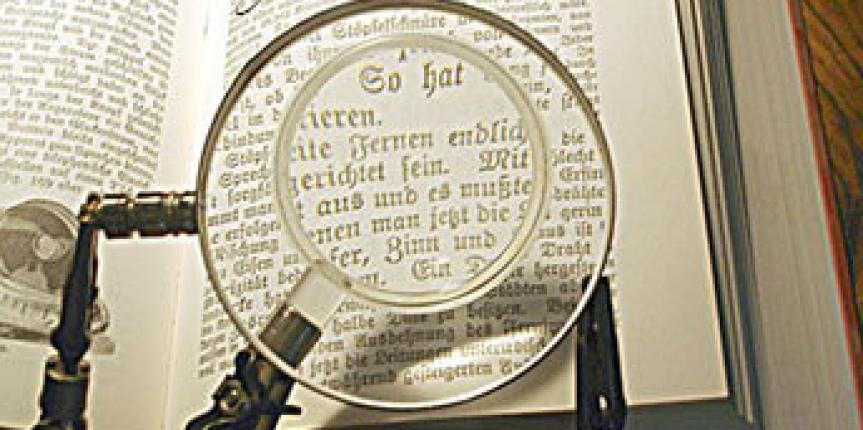 When it comes to Seo, LSI keywords are simply variations of your primary keyword and semantically associated keywords that would naturally appear in quality content. The emphasis placed on LSI keyword density has become far greater since the most recent search algorithm updates, and it's simply no longer good enough just to write content that has your primary keywords in it.
Following is the exact strategy I use to ensure my content has the correct density of LSI keywords when compared to the top 10 results for the primary keyword I'm trying to rank. Whenever you type your main keyword into Google they always show you exactly what they deem to be the best content about that keyword. So it's a smart strategy to ensure that your content has the same semantically associated keywords, with the same density too.
The best way to achieve this is to write your content as per normal with your primary keywords in mind. The trick here is just to write as naturally as possible and completely forget about keyword density. Once you've finished your article or webpage, it's time to check it and make the required adjustments to achieve the perfect LSI keyword density according to the top 10 search results. To reverse engineer the LSI keyword density of the top 10 results, and find other semantically associated keywords that you've probably missed, head over to a site called Text Tools. They have a free 14-day trial available so you'll still be able to implement this method even if you only want to optimise a couple of articles for free. You can also use the discount code SEOWORX to get 10% off any plan.
How to Get the Perfect LSI Keyword Density for Your Content
The first step is to request an LSI keyword analysis of the top results for your keyword, and you'll have to be logged in to do this. Enter the main keyword that you're trying to rank for and the country of origin you want Google to search from. Text Tools will then email you a link to the results that will look like this.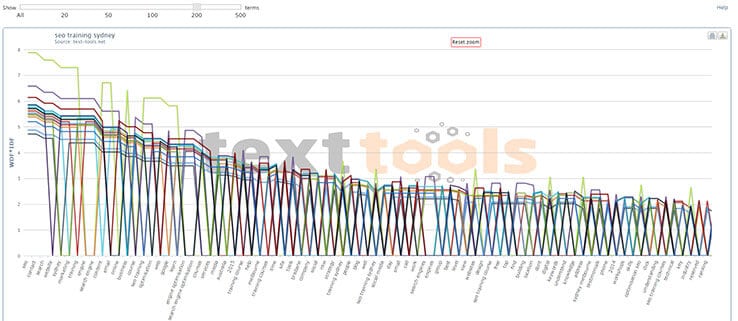 Take a look through the results it and you'll see how all of the top results tend to include a vast majority of the same LSI keywords. These are the semantically associated words that Google deems to be significant and relevant to quality content about your keyword. You then click on the 'Compare link' to analyse your content against the top ranking results.
The compare page now allows you to paste in your content and analyse it against the top 10 results for your primary keyword. The next stage is to document all of the semantically associated keywords your content is missing, so you end up with a list of LSI keywords that you now need to add to your existing content.
Seed Your Content With Semantically Associated Keywords
What you'll usually find is that these keywords are loosely associated with your main keyword, so it's not that difficult to execute the trick I'm about to show you. The trick here is not to edit your existing content, but just simply add a paragraph to it that contains all of the LSI keywords your page is missing. Your existing content should already read beautifully so there's no need to edit it and ruin its structure.
It's far better just to add a creative paragraph that includes all of your missing LSI keywords. Below is a screenshot the missing LSI keywords that my content had. You can see the paragraph I created that includes all of the missing LSI words in the table above it. Then I can just add that paragraph to my existing content.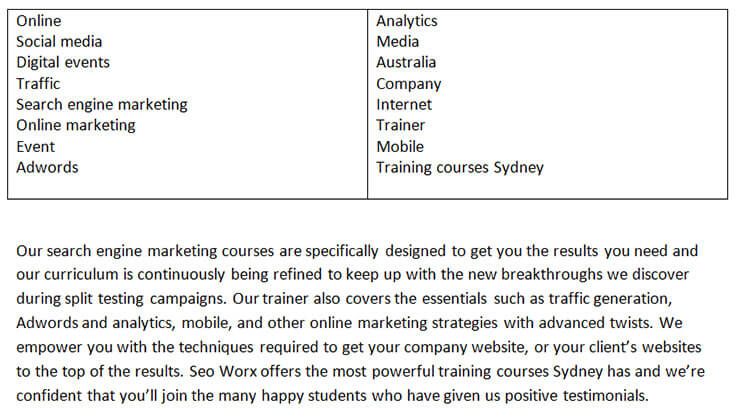 Perfectly Seeded LSI Keywords that Mirror the Top 10 Results
Here's the before shot of what my keyword density comparison chart looked like after the first analysis of my content when compared to the top 10 results in Google.

Here is the repaired version of my content with that one extra paragraph strategically added to the content. As you can see, the analysis of my content's LSI keywords now beautifully mirrors the top 10 search results! Any of the troughs you see in the below screenshot are still there because the missing words, such as different capital cities, are not relevant to my search terms. So there you have it, and it's not that hard to do. It takes no longer than 15 minutes to ensure that your webpage's LSI keyword density is perfectly matched to the top 10 search results for the terms you're trying to rank.

The advantages of this are enormous because if your onsite structure is perfectly optimised and content is also perfect, then you only need to worry about one thing; promotion via links.